William Vinter (Senior)
1831: Born in Kirkby-on-Bain, near Coningsby, Lincolnshire.

1851: Farm labourer for Thomas Elmitt, "Coningsby Lawn" farm, Coningsby.
1857: Police officer, Chaple Lane, Hull. Married Caroline Short.
1863: Farm labourer.
1876: Lock keeper and "Foreman on the Navigation between Horncastle and Tattershall".
1881: Living in the "Lock House", Tumby, near Coningsby.
1896: Farmer at "The Lawn" farm, Coningsby (purchased after 1882 from George Elmitt).
1915: Living at Tumby Road, Coningsby.
1917: Died.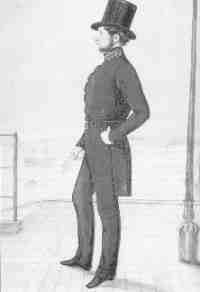 William VINTER joined the Hull City Police Force on 19 January 1857, aged 25. and was assigned the number 24.

On 3 February 1857 he was fined 1 day's pay and reprimanded by the Watch Committee for being drunk when coming on duty at 9 pm.
He married Caroline Short in Hull on 26 Feb 1857, and resigned from the force on 15 April 1857, having given one months notice.


Clearly not destined to be a policeman, William returned to Lincolnshire and agriculture. Initially, he again worked as a farm labourer before becoming a lock-keeper and "foreman of navigation" on the Horncastle Canal. He was also possibly a "ganger", providing labourers for roads, harvesting etc. This must have earned him enough to buy his own farm - "The Lawn" at Coningsby, where he had worked in his youth as a labourer. When he died, he willed that the farm be sold, and the proceeds divided between his son John, and one John Hubbert of Tattershall. It was purchased by Robert Osgarby, who in turn sold it to the Air Ministry to build Coningsby airfield in WWII.

William (left) had 6 sons, and had them trained in various trades, so that they could work on the farm - George was an agricultural implement maker, Thomas a bricklayer, Frederick a blacksmith, and Edward a carpenter. However, at his death, all but John were either deceased or disinherited. It is thought that Edward was possibly disinherited because he got married and moved to Lincoln.

At Christmas 1917, William (Sen.) travelled to see his son William (Jnr.) at his home in Scrivelsby. The journey was arduous and cold, and William (Sen.) was taken ill soon after arriving, and died on New Year's Eve. He was buried in Coningsby Cemetry, alongside his wife and daughter, Phoebe. The inscription on his tombstone reads:

In loving memory of William Winter of Tumby Road, Coningsby, who died 31st December 1979, aged 87 years.
"Rest on dear Father thy labours are o'er, thy willing hands will toil no more, a faithful friend true and kind, no friend on earth like thee we find".
Click on these thumbnails to see larger images:


The Black Cottage, Tumby Road, Coningsby.

William, Caroline & Pheobe's gravestones; RAF Coningsby hangars in the background.